Your Library Card
Getting a card, renewing materials, placing holds, etc.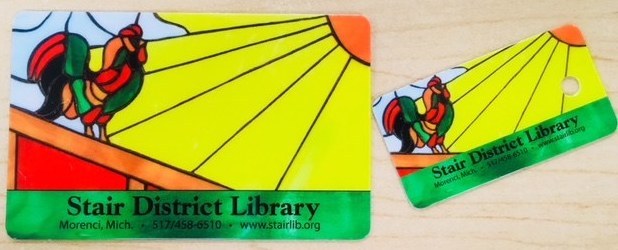 Who can get a card
Anyone 18 or older who has a photo ID and proof of address within the boundaries of the Stair District Library district is eligible for a card at Stair District Library. The library district consists of the City of Morenci and those parts of Seneca and Medina Townships in the Morenci Area School District. Those younger than 18 must have a parent or legal guardian physically present when applying for a card and the parent/guardian must have the proper identification and proof of address. 
How to Get Your Card
Simply visit us at our location at 228 West Main Street in Morenci, Michigan and bring your proof of address and photo ID. Anyone under 18 years old must also have a parent or legal guardian present.
Online Card Registration
District residents: Get your Stair District Library card online to access ebooks and audio books through OverDrive/Libby for adults and children. And, coming soon through hoopla: access movies, TV shows, comics, music, and more ebooks and audio books!
Email stairstaff@gmail.com with this information:
name

address

residency (City of Morenci or Seneca or Medina)*

phone number

child (under 18) or adult
Borrowing Limits
New patrons are limited to two items at a time for the first six months, after which time there is no limitation providing probation is not extended or upon parent or guardian's request.
Placing Holds
Let us know if there's a book or DVD you'd like us to reserve for you. Call 517-458-6510 during regular hours, ask at the circulation desk, or place online following these steps:
Click on the photo of the card catalog on the main page
Click "Please login"
Enter your library card number in both the username and password fields
Enter search terms (title, author, or subject)
When results come up, click the hold icon for the desired item
Click "Place Hold" in the next screen
Click OK.
To doublecheck that the hold was placed, click "Your Account" and scroll to "Items on Hold." 
Renewing Your Borrowed Items
Call us during regular hours and we can renew your items over the phone. Renewals can also be done at the circulation desk.
Library Fines
Stair District Library does not charge fines for overdue materials. However, a fee may be assessed if an item is never returned or if it is damaged. The charge varies depending on the cost of replacement or level of damage.