WHAT'S HAPPENING...
Stair District Library hours: Mon. & Wed.: 10 a.m.-7 p.m.; Tues. & Thurs.: 1-5 p.m.; Fri. & Sat.: 10 a.m.-2 p.m.
_________________________________
HELP WANTED: Library Assistant 
Enthusiastic, energetic, customer-service oriented, tech savvy assistant needed for children's and adult programming, cataloging, administrative duties, interlibrary loan, graphic design and general library tasks. High school diploma required, some college preferred. 8 hours/week (occasionally more). Position requires some evening and Saturday shifts. Pick up application folder at the library during open hours: M&W 10-7; T&Th 1-5; F&S 10-2. 228 W. Main St. Morenci. Position is open until filled. Email stairlibrary@gmail.com for questions.
__________________________________
SUMMER READING PROGRAM!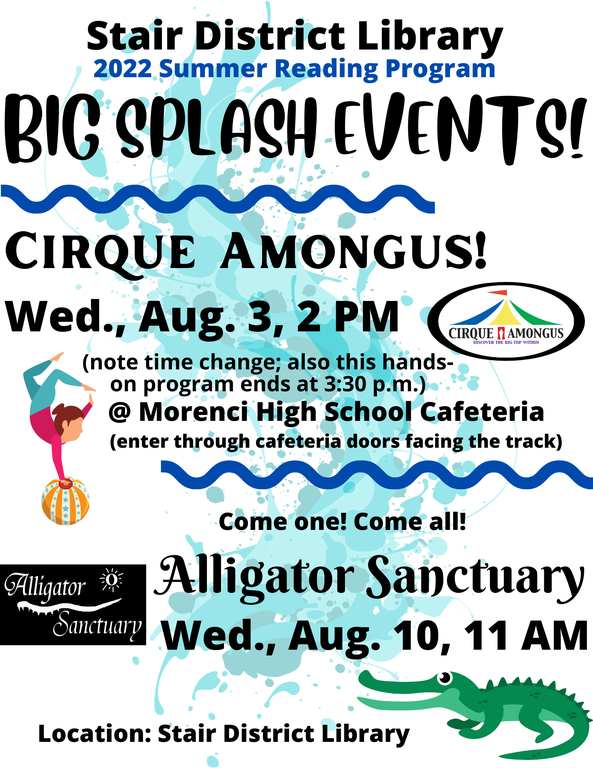 Sign up your kids & beat the summer slide!

__________________________________
LOTS OF COPIES AVAILABLE THANKS TO THE ADRIAN DAR!
__________________________________
Join us for button making, art, jump rope and more at the Back to School Bash!

__________________________________
BOOK DISCUSSION IN PERSON!
NOTE: The Evening Book Discussion group is meeting in person again and has switched to the fourth Monday at 7 p.m.
Who: Anyone who loves books and a good discussion. 
What: The Keeper of Lost Things by Ruth Hogan
When: Monday, Aug. 22, 7 p.m. 
Where: Stair District Library Annex
Why: It's fun! Intellectually stimulating! Socially uplifting!
How: Call the library at 458-6510 or email stairlibrary@gmail.com to reserve a copy of the book.
________________________________
BABY/TODDLER TIME RESUMES SEPT. 12!

MONDAYS @ 10:30 A.M (RESUMES SEPT. 12).

: 
The program features short books, songs, nursery rhymes, finger plays, lap bounces and the like for children under two and their parents or caregiver.
Older siblings are welcome to attend or read or do homework in the library.
Email stairlibrary@gmail.com or call 517.458.6510 to register and reserve a supplies kit!
__________________________________
Clean Up Your Act! 
Everybody is invited to join the "Clean Up Your Act Little Book Club" book discussion group which is Inspired by little, short books such as Marie Kondo's "The Life-changing Magic of Tidying Up: the Japanese art of decluttering and organizing."
Next session: TBA
Topic:

TBA
Register: email Colleen at stairlibrary@gmail.com for the Zoom link.
You don't actually have to read a book to attend this Zoom session. Email stairlibrary@gmail.com for the link and prepare to laugh and learn with Melissa Elliott.
__________________________________
Looking for the Teen Quest clue?
Click below:

__________________________________
FREE COVID HOME TEST KITS!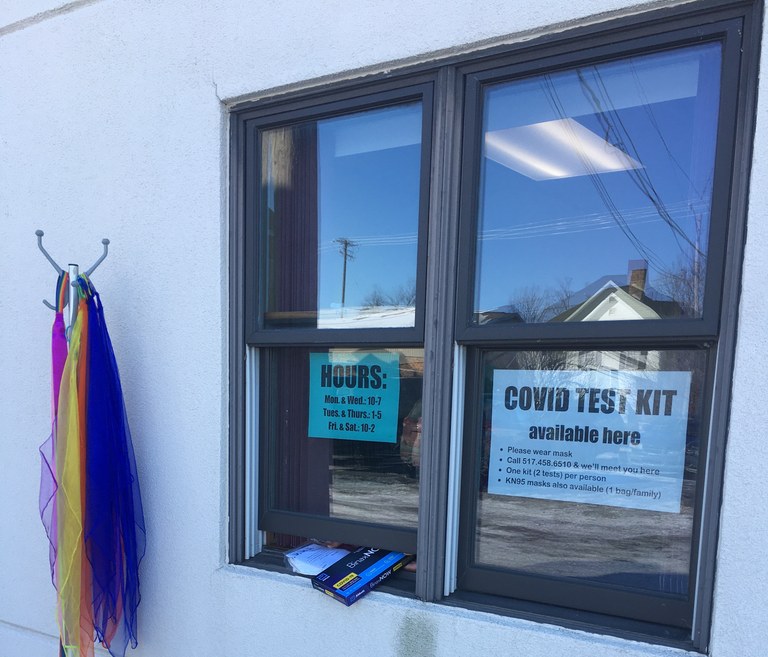 Free COVID test kits at Stair District Library! CURBSIDE at   the BACK of the library through the window during open     hours: M&W 10-7; T&TH 1-5; F&S 10-2.
 One kit (two tests) per person.
 Call ahead at 517-458-6510 to make sure tests are     available; call when you arrive at the parking lot and we'll   meet you at the window. 
Packages of KN95 masks are also available.
__________________________________
MORENCI HISTORY!
See Morenci newspapers from the 1920s to the present! Click on "Observer" below:

NEW! Morenci High School

YEARBOOKS 

are now also on this same site! Click the Observer link above to access them.
__________________________________
Online Card Registration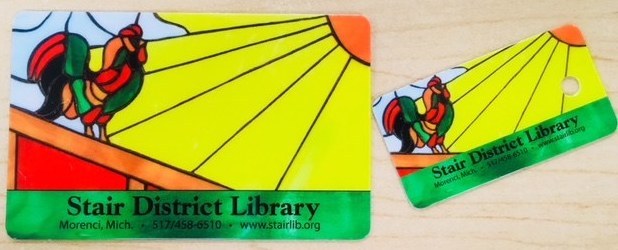 Morenci Area Schools students: register here with parent/guardian approval.

Click the bulldog

 
District residents*: Get your Stair District Library card online to access ebooks, audio books, and magazines through OverDrive/Libby for adults and children. ALSO AVAILABLE: hoopla! Get instant access to movies, TV shows, comics, music and more ebooks and audio books! No waiting, no holds!
name

address

residency (City of Morenci or Seneca or Medina)*

phone number

child (under 18) or adult
Patrons who already have a library card and who need help getting set up with OverDrive/Libby or hoopla: email 

stairstaff@gmail.com or call 458-6510.
*The library's service area consists of the City of Morenci and the parts of Seneca and Medina Townships within the Morenci Area Schools District.
__________________________________
Directions for reserving library items:
Call 517-458-6510 to place an order for library materials or follow these steps:
Click on the photo of the card catalog (either in the left column or below) or the "rooster" library card photo above;
Click "Please login";
Enter your library card number in both the username and password fields;
Enter search terms (title, author, or subject);
When results come up, click the hold icon for the desired item;
Click "Place Hold" in the next screen;
Click OK.
To doublecheck that the hold was placed, click "Your Account" and scroll to "Items on Hold." 
We will contact you when your order is ready

If you prefer curbside pick-up, call us when you arrive at the parking lot behind library

Wear a mask; we'll meet you at the door.



Call 517-458-6510 or email stairlibrary@gmail.com if you need help with anything...especially if you can't find your library card or your account needs to be updated.
Not sure what you want? Let us surprise you with a Book Bundle Bag! Just ask us to choose some books for you and we'll let you know when they're ready.
__________________________________
Copy/Print/Scan/Fax Services
All services are available and can be handled curbside if preferred. Make arrangements by calling 517-458-6510 or email documents to stairstaff@gmail.com
Copies/prints: 10-cents/page B/W; 50-cents/page color
Scan to email: $1.00
Fax: To send: $1.50 for first 3 pages, 10-cents/page for additional pages.
Fax: To receive: $1.00
__________________________________

Extra! Extra! Read All About It!...But Where?
Join the conversation to discuss how the loss of the Observer impacts you and the community and what we can do about it:
Next session: To be announced
Email stairlibrary@gmail.com or call 517-458-6510 for the Zoom link. 
Need a WiFi hotspot to attend the meeting on video? Contact the library (see above). Funded by a grant from the American Library Association.
"Libraries Transforming Communities: Focus on Small and Rural Libraries is an initiative of the American Library Association (ALA) in collaboration with the Association for Rural & Small Libraries (ARSL)." Read more about the grant here.
__________________________________
Visit us on Facebook to see the artwork created by Morenci Middle and High School students under the direction of Mr. Grime, currently on display in the library annex. Click owl below to go to Facebook and then scroll down to the May 14, 2020 art show post.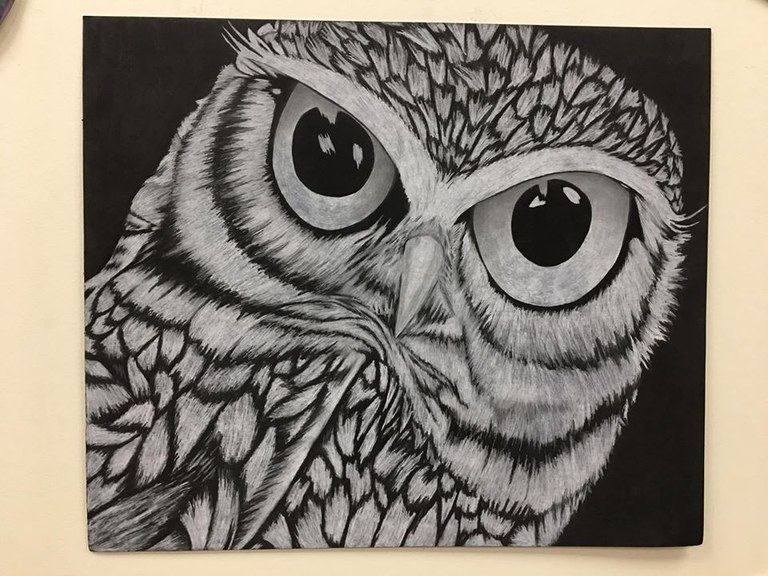 ____________________________
Video series by Cally Gautz brings children's literature to life in a new way! Check it out on Facebook! (Click on "LIT2LIFE" above to see the video.)
_
_
__________________________

"MADDOGGS' SCIENCE: GIRLS NIGHT OUT!"
● Bright Idea: FREE field trip to the Ann Arbor Hands-On Museum to explore light and optics! FREE guided tour of the Light and Optics Gallery! FREE brown bag dinner!
Thursday, Sept. 19, 3:15 p.m.: meet at the library to carpool to Ann Arbor
Will be rescheduled for a later date. Registration will be required to help with staff planning.
("MADDOGGS" stands for Mothers, Aunts, Daughters, Daughters-in-Law, Grandmothers/granddaughters/girlfriends, and Sisters. The "O" is for other people: everybody is welcome to attend! BRING THE WHOLE FAMILY!)
"GIRLS NIGHT OUT" is a series of 6 FREE events/field trips with short demonstrations of scientific principles. It's part of the NASA @ My Library grant initiative. NASA @ My Library is led by the National Center for Interactive Learning at the Space Science Institute in partnership with the American Library Association Public Programs Office, the Pacific Science Center, Cornerstones of Science, and the Education Development Center.
Last event date and time to be announced:
● Out to Ohio: Field trip to Plum Brook Station to tour the Glenn Research Center & NASA Glenn Visitor Center. 
Previous events:
Starry, Starry Night: Field trip to the Dark Sky Preserve at Lake Hudson preceded by a light dinner and activities at the library, Sept. 29, 2018

Light Bright Library: an evening at the library with electrical gadgets such as Snap Circuits, Lite-Brites, Makey Makey. July 23, 2018

Planetarium: Science Cafe at the library with Snippets of Science and Snazzy Snacks, followed by field trip to Adrian College Robinson Planetarium with Dr. Sarah Hanson & /cosmic Colors planetarium show. Feb. 17 2018, 5 p.m. at library; 7 p.m. at planetarium.

Paint & Sip: of Van Gogh's "The Starry Night" Oct. 19, 2017
____________________________
"SCULPTAMANIA!"
Creative Construction Toys (Available by request only at this time)
Play with our NEW totally cool creative construction toys whenever we're open! (Funded by Disney through a grant administered by the Association for Library Services to Children, a division of the American Library Association)
MagnaTiles
B. Toys Bristle blocks
Connectagons
Keva planks
Magformers
Quadrilla
Strawbees
Blocks: architectural, unit, Haba
255-piece domino race set
Sculpture in a Box
K'Nex
Zoob
Suspend
Squigz
What is your library worth to you?
Literally...how much do you save by using your library? Find out by using this "Return on Investment Calculator." 
A FEW LINKS...

  ...and click "Like!"
Mrs. Kruger's Blog  (Former Morenci Middle School teacher reviews books)
---
- Work and research from the office or from home, anytime
 - Book reviews, top sellers, author interviews, and news headlines
________________________________________________________