WHAT'S HAPPENING...
Summer Reading Program 2020
Special entertainment: 

Exotic Zoo!
Starting July 30, click here to see the show: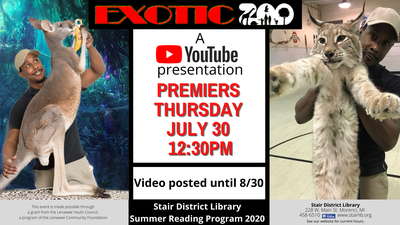 ____________________________
Summer Reading Program 2020
Special entertainment: "Imagine You're King"
Click here for the Facebook Live recording of the event from Morenci Elementary School:

_
_
__________________________
Curbside Pick-up hours:
Monday and Tuesday: 3 to 7 p.m.

Wednesday, Thursday, Friday, Saturday 10 a.m. to 2 p.m.
See more details below.
____________________________

Directions for reserving library items:
Call 517-458-6510 to place an order for library materials or follow these steps:
Click on the photo of the card catalog (either in the left column or below);
Click "Please login";
Enter your library card number in both the username and password fields;
Enter search terms (title, author, or subject);
When results come up, click the hold icon for the desired item;
Click "Place Hold" in the next screen;
Click OK.
To doublecheck that the hold was placed, click "Your Account" and scroll to "Items on Hold." 
We will contact you when your order is ready

Call us when you arrive at the parking lot behind library

Wear a mask or face covering

Pick up order from table at back door after staff member goes inside
Curbside Pickup Hours
Monday and Tuesday: 3 to 7 p.m.

Wednesday, Thursday, Friday, Saturday 10 a.m. to 2 p.m.
Call 517-458-6510 or email stairlibrary@gmail.com if you need help with anything...especially if you can't find your library card or your account needs to be updated.
Not sure what you want? Let us surprise you with a Book Bundle Bag! Just ask us to choose some books for you and we'll let you know when they're ready.
Copy/Print/Scan/Fax Services
All services are available during curbside hours, handled by staff only. Make arrangements by calling 517-458-6510 or email documents to stairlibrary@gmail.com
There is no charge for any of these services (up to 10 pages) through the end of December, 2020.
___________________________
Summer Reading Program continues through Aug. 15!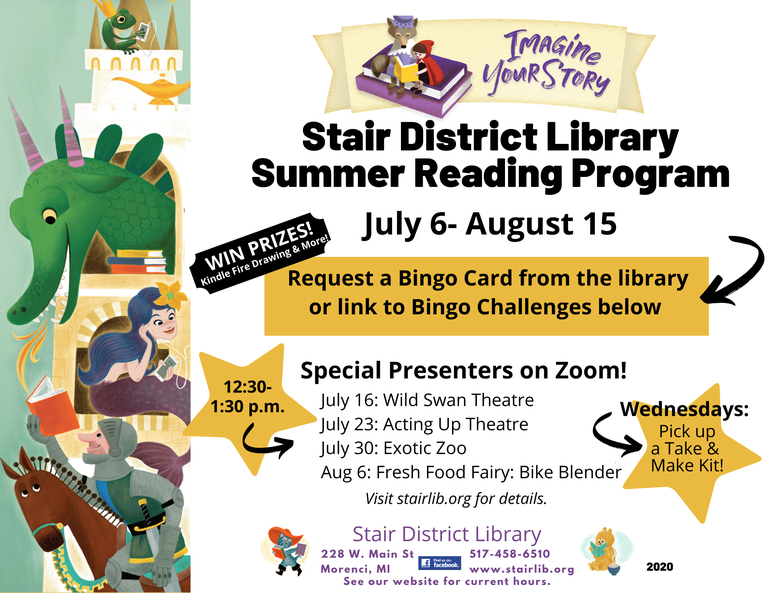 Click here to link to the Bingo Challenges site:

____________________________

RBdigital is available now! Create an account and then gain access instantly to magazines, audio books, newspapers, movies, TV shows, comics and graphic novels! It's an amazing collection of FREE materials. Click the link, download the app, set up an account in 4 easy steps, and KABOOM! instant access to great stuff!
___________________________________________
Welcome!
Explore the links on this site for a wealth of free resources including newly added RBdigital which gives access to audio books, magazines, newspapers, movies and TV shows, and comics and graphic novels...all with no waiting;
OverDrive/Libby for access to books and audiobooks;
Mango languages;
Consumer Reports;
MeL, the Michigan eLibrary; and more!
Contact us at 458-6510 or email stairlibrary@gmail.com if you need assistance in setting up accounts.
Thank you for your understanding during these challenging times. We hope to see you soon in the library!
Colleen Leddy, Director
____________________________
Clean Up Your Act!
The Clean Up Your Act Little Book Club has resumed meetings!
Everybody is invited to join the book discussion group which is Inspired by little, short books such as Marie Kondo's "The Life-changing Magic of Tidying Up: the Japanese art of decluttering and organizing."
Next session: July 29, 6 p.m. on Zoom
Topic: Motivation & Purpose: A battle of will vs. will not!

Melissa Elliott will guide the group. 

Join in or just listen to lively, unpredictable conversation and discussion!

 Melissa has lots of great resources to suggest...not just little books! 
____________________________
BOOK DISCUSSION ON ZOOM!
NOTE: The book discussion group usually meets the third Monday of the month, February through November, but will be meeting on Zoom as announced.
Who: Anyone who loves books and a good discussion. 
What: Book to be announced
When: To be announced
Where: On Zoom! Email stairlibrary@gmail.com and ask for the meeting ID and info or text/call 859-779-4688.
Why: It's fun! Intellectually stimulating! Socially uplifting!
How: If you don't already have an RBdigital account, follow directions below, under the RBdigital logo, to check out the audio book.  
____________________________
Visit us on Facebook to see the artwork created by Morenci Middle and High School students under the direction of Mr. Grime, currently on display in the library annex. Click owl below to go to Facebook and then scroll down to the May 14 art show post.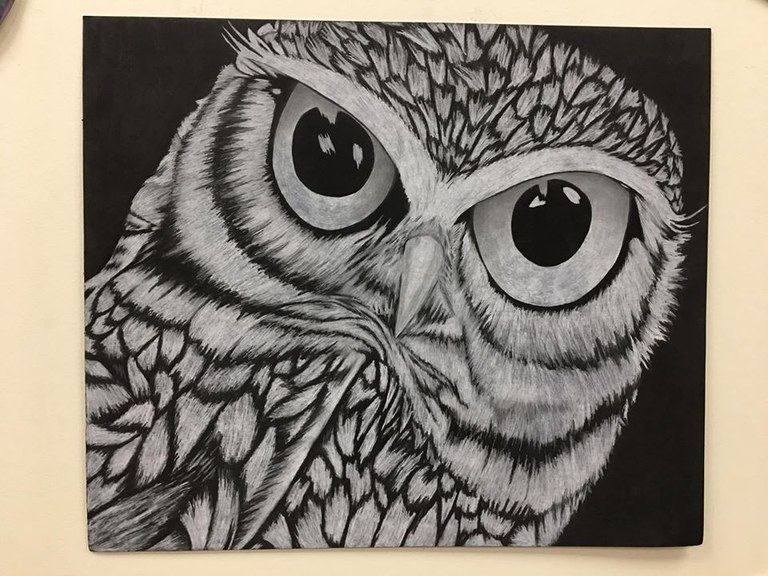 ____________________________
New video series by Cally Gautz brings children's literature to life in a new way! Check it out on Facebook! (Click on "LIT2LIFE" above to see the video.)
____________________________
BABY/TODDLER TIME
LIVE BABY/TODDLER TIME
ZOOM SESSIONS SCHEDULED MONDAYS AT 11 A.M.: 
The program features short stories, songs, nursery rhymes, finger plays, lap bounces and the like for children under two and their parents or caregiver.
Pre-school age children accompanied by their parent or caregiver are welcome to attend.
Registration is required. TO REGISTER, EMAIL COLLEEN at stairlibrary@gmail.com .
________________________________
Find us on Facebook Live at 9 p.m. Thursday, May 7, for another moonrise celebration! Trivia contest with prizes! Greet the full moon (it's a supermoon...the Flower Moon!) with David Green of the Morenci Howling Society!
A NASA @ My Library program...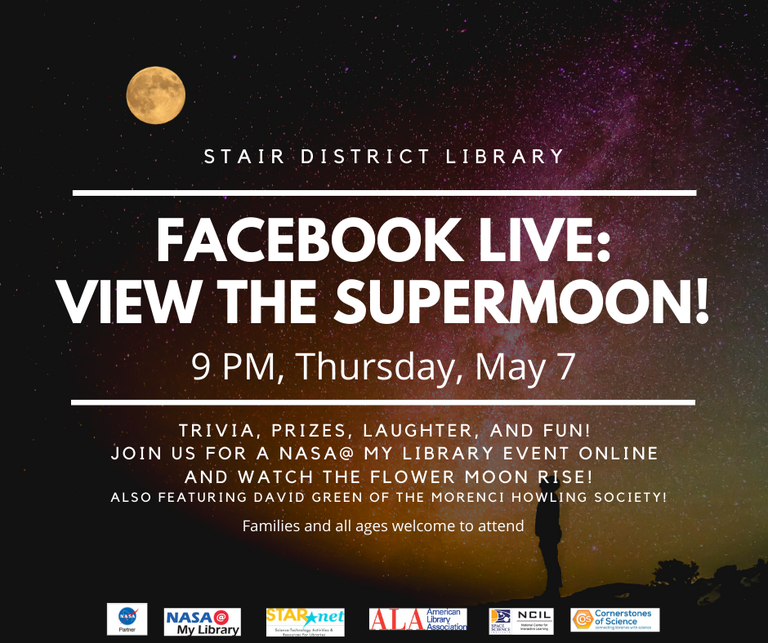 ____________________________
Coming soon...another Zoom like this one:

All ages welcome! To register, text Colleen at 859-779-4688 or email stairlibrary@gmail.com
It will help if you can gather these supplies ahead of time:
Dig for the Bone: rice, permanent marker, measuring cup, bowl. (Completely color 5 grains of rice ahead of time with the permanent marker.) 
Animal Hide and Seek: stuffed animals
Winter Fur Coat: at least 5, if not more, long sleeve shirts/jackets/coats
Cookie Monster: small flat cookie (Oreo, Nilla wafer, other similar type)
Stack Master: preferably at least 15 plastic cups (must be uniform in size/shape), or cans     
Traffic Yam: sweet potato, potato, or onion. Cleared floor space.               
Marshmallow Race: straw (not necessary), preferably small marshmallows, large will work
M&M Coding: M&Ms (or other small colored items such as Skittles or Fruit Loops) and something to sort the M&Ms into designated areas (such as bowls, matching colored paper, or taped off squares)
An Elephant Nose: traditionally with pantyhose and tennis ball…Can substitute with orange or apple and long sock, filled pop bottle
______________________________
Looking for some great resources for children? Check out this list compiled by Mary Beth Reasoner, Children's Librarian at Tecumseh District Library. Click here. 
______________________________
ANSWERS TO QUESTIONS MORENCI AREA RESIDENTS ARE ASKING...
Click here for free access to a wide variety children's books:

______________________________
The deadlines to FILE and PAY

federal

income taxes are extended to July 15, 2020.
See more info about coronavirus tax relief here:
______________________________
The Census can be filled out online even if you lost the 12-digit Census ID:
______________________________
CoronaCard!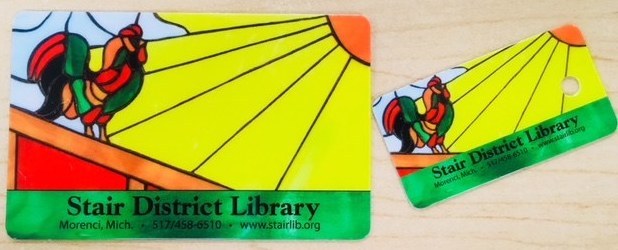 NEW to district residents who don't currently have a library card!
Get the Stair District Library CoronaCard! Our online card will give free access to ebooks and audio books through OverDrive/Libby for adults and children in the district as well as magazines, newspapers, movies, TV shows, comics and graphic novels and additional audio books through RBdigital.
Email stairlibrary@gmail.com or text Colleen at 859-779-4688 with this information:
name

address

residency (City of Morenci or Seneca or Medina)

phone number

child (under 18) or adult
Patrons who already have a library card and who need help getting set up with OverDrive/Libby or RBdigital: email 

stairlibrary@gmail.com or text Colleen at 859-779-4688
______________________________
UPDATE:
During the library closure due to COVID-19:
Please do NOT use the book return. Staff will not be in the building to handle returns.

Please hold on to all Stair District Library and interloaned items until the library reopens.

MeLCat interlibrary loan service has been suspended throughout the state until further notice. However mel.org has a wealth of information. Plan to spend some time there and here on this site!

Continue to check here and our Facebook page for updates, call/text director Colleen Leddy at 859-779-4688 or email stairlibrary@gmail.com.
Thank you for your patience and understanding during this challenging time. 
3.15.2020
______________________________
RAISING READERS! STAIR'S ABC'S: Art, Books, and Cooking: To be annouced
(Formerly Family Storytime...New focus, new fun!)
Explore Art, read Books, learn to Cook something. A! B! C! (And still some Music and Movement!)
JOIN THE FUN!

The program focuses on the 3-5 year-old age group, but all family members are encouraged to attend. Pre-schoolers must be accompanied by an adult.
Registration is helpful for planning, but not required; see contact info below.
Send a message on

 

Stair District Library Facebook, email

 

stairlibrary@gmail.com or stop in or call 458-6510 during regular hours: 

Monday & Wednesday: 10  a.m. to 7 p.m.; Tuesday, Thursday, & Friday: 1 to 5 p.m.; 

Saturday: 9 a.m. to 1 p.m. Closed Wednesdays in the summer at 5 p.m.
________________________________

"MADDOGGS' SCIENCE: GIRLS NIGHT OUT!"
● Bright Idea: FREE field trip to the Ann Arbor Hands-On Museum to explore light and optics! FREE guided tour of the Light and Optics Gallery! FREE brown bag dinner!
Thursday, Sept. 19, 3:15 p.m.: meet at the library to carpool to Ann Arbor
Will be rescheduled for a later date. Registration will be required to help with staff planning.
("MADDOGGS" stands for Mothers, Aunts, Daughters, Daughters-in-Law, Grandmothers/granddaughters/girlfriends, and Sisters. The "O" is for other people: everybody is welcome to attend! BRING THE WHOLE FAMILY!)
"GIRLS NIGHT OUT" is a series of 6 FREE events/field trips with short demonstrations of scientific principles. It's part of the NASA @ My Library grant initiative. NASA @ My Library is led by the National Center for Interactive Learning at the Space Science Institute in partnership with the American Library Association Public Programs Office, the Pacific Science Center, Cornerstones of Science, and the Education Development Center.
Last event date and time to be announced:
● Out to Ohio: Field trip to Plum Brook Station to tour the Glenn Research Center & NASA Glenn Visitor Center. 
Previous events:
Starry, Starry Night: Field trip to the Dark Sky Preserve at Lake Hudson preceded by a light dinner and activities at the library, Sept. 29, 2018

Light Bright Library: an evening at the library with electrical gadgets such as Snap Circuits, Lite-Brites, Makey Makey. July 23, 2018

Planetarium: Science Cafe at the library with Snippets of Science and Snazzy Snacks, followed by field trip to Adrian College Robinson Planetarium with Dr. Sarah Hanson & /cosmic Colors planetarium show. Feb. 17 2018, 5 p.m. at library; 7 p.m. at planetarium.

Paint & Sip: of Van Gogh's "The Starry Night" Oct. 19, 2017
____________________________
"SCULPTAMANIA!"
Creative Construction Toys Available Daily in the Library
Play with our NEW totally cool creative construction toys whenever we're open! (Funded by Disney through a grant administered by the Association for Library Services to Children, a division of the American Library Association)
MagnaTiles
B. Toys Bristle blocks
Connectagons
Keva planks
Magformers
Quadrilla
Strawbees
Blocks: architectural, unit, Haba
255-piece domino race set
Sculpture in a Box
K'Nex
Zoob
Suspend
Squigz
What is your library worth to you?
Literally...how much do you save by using your library? Find out by using the "Return on Investment Calculator" in the box to the right, under the hours,
A FEW LINKS...

  ...and click "Like!"
Morenci History (reprinted from Our Journey in Time)
You have been awarded 
LEATHER
ARMOR
 protection gear for your sleuthing skills!
---
- Work and research from the office or from home, anytime
 - Book reviews, top sellers, author interviews, and news headlines